QPI Louisiana - Philosophy and Expectations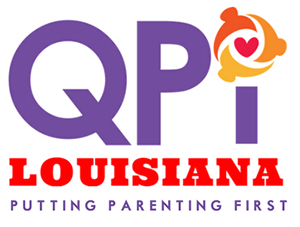 The Quality Parenting Initiative (QPI) is a philosophy and approach in child welfare practice designed to strengthen foster care, including kinship care, by refocusing on quality parenting for all children in the child welfare system. It is a process designed to help a site develop new strategies and practices, rather than imposing upon it a predetermined set of "best practices."
When parents can't care for their children, the foster or relative family must be able to provide the loving, committed, skilled care the child needs. They must be able to work effectively with the system to achieve the best possible permanency option. Both the caregiver's parenting skills and the system's policies and practices should be based on child development research, information, and tools.
Principles | Goals | Commitment Matrix
---
QPI Brand
The brand is a statement of the site's expectations for caregivers (foster parents and kin) and the caregivers' reasonable expectations of the child welfare system. QPI is an effort to rebrand foster care, not simply by changing a logo or an advertisement, but by changing the expectations of and support for foster parents and other caregivers.
Quality Parenting is an approach to strengthening foster care including kinship care, by refocusing on quality parenting for all children in the child welfare system regardless of where they live. It is a philosophy to which we hold ourselves accountable for the day-to-day care and parenting of children and teens in the custody of the State of Louisiana.
QPI seeks to change what foster parenting, including kinship care, means to a community. Louisiana developed its own brand and Principles of Care for Quality Parenting thru multiple community meetings and focus groups. Only the community itself can decide exactly what that is. Similarly, each community must identify local barriers to making the "brand" a reality. Most importantly, bringing the community together to discuss parenting and expectations of caregivers is the first step in increasing mutual respect and team building.
---
QPI and Kinship Care
QPI is not simply a recruitment and retention tool. Therefore QPI also applies to kinship care. The brand provides kin with an explanation of what they must do to care for a child. It gives the agency a way of selecting the appropriate family member to care for a child and structuring a kinship support and education program.
---
QPI Expertise
As part of a national network of quality parenting professionals, caregivers, stakeholders, and community partners, QPI brings educational resources, including connections to experts in psychology and trauma, consultants in recruitment and retention of foster families, policies and procedures, foster parent training materials and advocacy assistance. These resources are available thru our child welfare agency, the La Child Welfare Training Academy (www.lcwta.org) and at www.QPI4kids.org.